"Whatever you think, be sure it is what you think; whatever you want, be sure that is what you want; whatever you feel, be sure that is what you feel."
Things I wanted you to know -
JG
: some thoughts and actions to think about, and you should
SOMBRE IS THIS FALL TREND, go for it!
You've probably heard about the ombre hair trend, but this Fall, it's all about sombre! A bunch of celebs are wearing the style, like Jessica Biel, Kelly Rowland, and Ciara! Want to rock the trend? You should!
YES!! IT WILL BE FUN!!I AM ALREADY HERE.
Allo
JG
,,,, This is Lupita (Jones),
,,,,just to tell you that Miss Universe 2014 will be held in MIAMI on the 3rd week of January. Are you coming?

models also have cellulite..............
Have I met you before?!
it's lovely. It's luxurious.
Five things woman always should be armed with:
confidence
knowledge
femininity
independence
red lipstick
La Perla reigns.............
Louis Vuitton of course
Gummy Bear Breast Implants
JG MUSINGS
coffee is the most important meal of the day
If I refer to you in the tidbits with your initials
- it means you are either part of my family or are very special friend to the
Goldsteins
....having said that...here is a nice pic of my sister
ML
that I mention quite often on the Tidbits....and she has the fabulous genes that the
Goldsteins
were so generous given by G-d and the best scalpel doctors(smiles)...
.
C'est très très chic
.
in black,

I love this Gucci pants.....

..
The Filipino philosophical expression
"Bahala na!"
is usually interpreted as a fatalist remark, comparable to "Whatever will be, will be"
, the expression and its meaning might have been altered throughout the ages. It might have originally been "Bathala na!" ("As God wills it!"), but was changed at one point in time. It might also be uttered when the Filipino has exhausted all possible ways to get out of a difficult situation. A modern fuller version of the phrase is
"Bahala na ang Diyos!
if you constantly eat strawberries your mouth will taste strawberry like.............you will wake up with your mouth smelling strawberry like....and your kisses will be strawberry like.
Pretty Ballerina....
Dans le Moment.
Thigh Gap
No Thigh Gap
Alona Bondarenko
one of the 4,000 + followers of the Tidbits
MONUMENTOS
PO
LAROIDS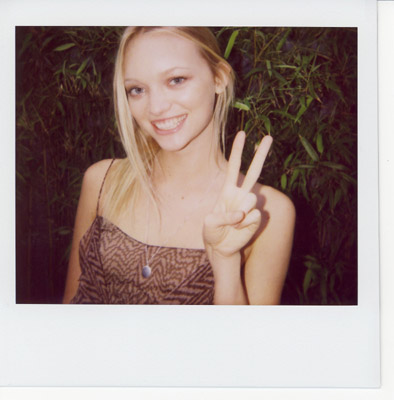 COMP CARDS
LOOKS








more tidbits
comfort in the desert of KSA
comfort at GEORGE V FOUR SEASONS
-Paris
Conceited people of the Birkin-gripping, Eddie Borgo-coning, stackable juste un clous, on clous, on clous; there is a new accessory in town.
Tanned hands make everything look better, contrary to whatever Blaine Anderson thinks.
Think about it. What makes a woman gripping a fashion show invite, her iPhone and a designer clutch seem so enviable?
let me sell you on a bottle of
St. Tropez bronzing mousse
Stylish things
Huge crowds — and some of the world's most sought-after models — greeted
the Apple Watch
during its Tuesday debut in Paris, as the wrist-worn device captivated the attention of the glitterati in town for Paris Fashion Week.
Spouses Of The Russian 'it' Girls
who the czarina's have married
, they are so beautiful, young and stylish, so what of their men? Are they stylish too? Rich? Or famous perhaps? You will have to see the post in full to find out.
Elena Perminova's husband is named Alexander Lebedev.
He saved her from Prison, and now they have three children together. She's just one of the many Russian women to have a happy ending, a la cinderella. Harper's Bazaar has an article about Elena's early life, and how she met Alexander Lebedev.
Miroslava Duma married Aleksey Mikheev in 2005
. He is an entrepreneur working at the ministry of trade and industry. She met him when they were both 20, and while Mira Duma was studying economics and international relations at Moscow's State Institute of International Relations.
a little take on Japan-
日本,
Studying Japanese involves getting used to some new concepts, including learning to read non-Western character
s (

hiragana and katakana

are quite easy to pick up)
and becoming comfortable with sentences with the subjects omitted (because they're clear from context). Another unique area of the Japanese language are the "counters," special markers for counting objects based on their shapes, similar to the way groups of animals are named in English, e.g. a herd of horses, a flock of birds. The counter for flat objects like a sheet of paper or a sitting cushion is 枚
mai
, resulting in
ichi-mai
,
ni-mai
,
san-mai
and so on, while machines like computers or cars are counted with 台
dai
(
ichi-dai
,
ni-dai
etc.). One of the most common of these counting words is 本
hon
, for counting long, cylindrical objects like
sake
bottles, samurai swords or trees. (Fun fact: 六本木
Roppingi
means "six trees.") Foreigners are likely to use this word when counting chopsticks, since they're the right shape, but the counter for a pair of chopsticks is actually 善
zen
, a word which Japanese themselves are often too lazy to use.
Being a gaijin a foreigner, I always go out of my way to use the correct counting word, saying something like お箸、一膳もらえますか?
o-hashi, ichi-zen moraemasu ka?
("could I have a pair of chopsticks?"), mainly because Japanese don't expect
gaijin
to get this word right and I like to surprise them.
BEAUTY






WHAT HAS SHE HAD DONE?
BEFORE PICTURES OF ALENA




Alena After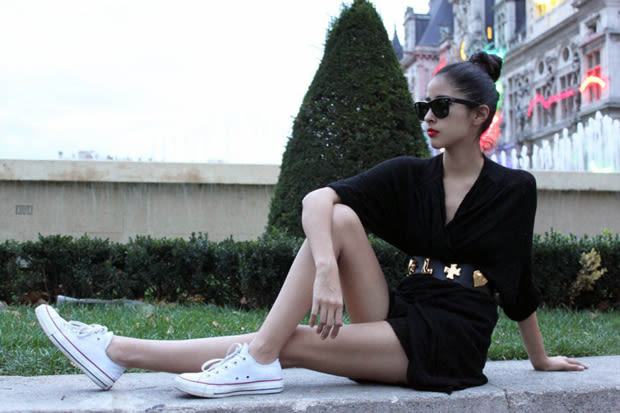 FASHION MUSINGS
NEWSTAND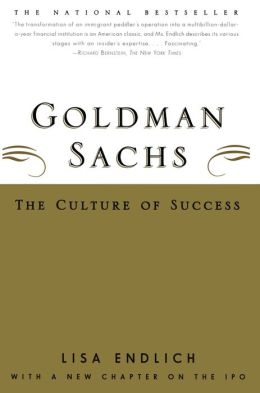 MY PARTING SHOTS
Style is a quality that we all would like to possess and yet style is not instictive or intrinsic to all.
It's not the pencil skirt and fine cashmere sweater, as lovely as they are.
For me, it is the belt slightly skewed, the necklace and in particular the pair of cuff bracelets.
That's the edge, that's the personal flair, the fashion style.
I see
There are so many beautiful looks in the Valentino spring show that I decided to just pick my favorite.
The sunglasses are certainly a breakout moment for the brand
THE SUSPENDERS
Les bretelles
, c'est pas forcément le truc qui vient tout de suite à l'esprit quand on cherche quelque chose de facile à porter, si ?
Pourtant, sur Ji Hye Park, ça a l'air d'être le truc le plus simple, le plus cool, le plus évident qui soit.


bag lady
Ladies what do you think?
LOOK- BLUSA DECOTE CANOA+
Calça de Tigre
American Apparel made in downtown Los Angeles....sweatshop free....
The native name of Israel is Yisrae'el
I am ...Israel is Israel...this blog is the truth as the world and life is.....
All the content is the property of Miscellaneous Tidbits 5775, unless otherwise stated
. I am happy
for excerpts and links to be used with or without credit to my blog.
© Miscellaneous Tidbits 5775